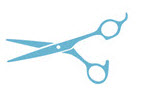 Starting this week, May 5, 2020, all of our stylists will be coming back to work. We have temporarily taken some of the stylists' online booking off, due to them working staggering schedules, taking time to disinfect before each client and after. We will have limited people in the salon at one time. Please come alone to your appointment and when you arrive at your scheduled appointment, please wait in your car or out front until we are ready for you to come in. Just keeping a low amount of people for everyone's comfort and safety.
Please come with a face mask, the kind that goes around your ears.
Please wash your hands when you come to the salon.
Every stylist will disinfectant their chair and their surrounding area. The door handles and everything in the bathroom will be cleaned after each person that was in there.
The shampoo area will be cleaned after each client.
We are making a conscious effort to maintain the utmost cleaning habits in our salon so we can comfortably work and perform our job of taking care of you.
We are evaluating all of our procedures and rules from the State Board of Cosmetology. When any of our steps change, we will be letting everyone know.
Thank you for your support. We appreciate you and are grateful to be able to get back to work.
THANK YOU from everyone at
CUT   ATLANTA