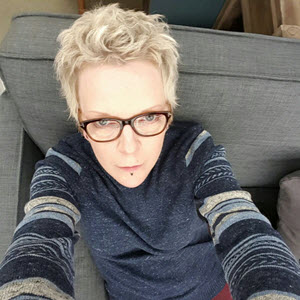 Rudi Moore is Master Stylist who has had a passion for hair since she began testing her cutting skills on her siblings and friends as a child. She studied at Vidal Sassoon and has over 26 years of experience in the industry. Over the course of her career, she has traveled all over the world teaching on stage at hair shows for Aveda, as well as working in salon settings. She specializes in cut and color, with a true affinity for short styles and cuts. Rudi's true talent lies in her mastery of precision cuts and the science of creating perfect color.
Rudi strongly believes in creating and maintaining relationships with her clients, which allows her to have a better understanding of her client's needs. As she says, "it's not just about someone sitting in my chair and me doing their hair, it's about getting to know that person, forming a friendship and building a lasting relationship." Rudi has a true passion for creating the perfect haircut for her clients and even after 26 years, still loves her job as a stylist.
Icons: Vidal Sassoon, Annie Lennox, David Bowie
Click HERE to make an online appointment Rudi
This link will navigate to another website to book online.
---